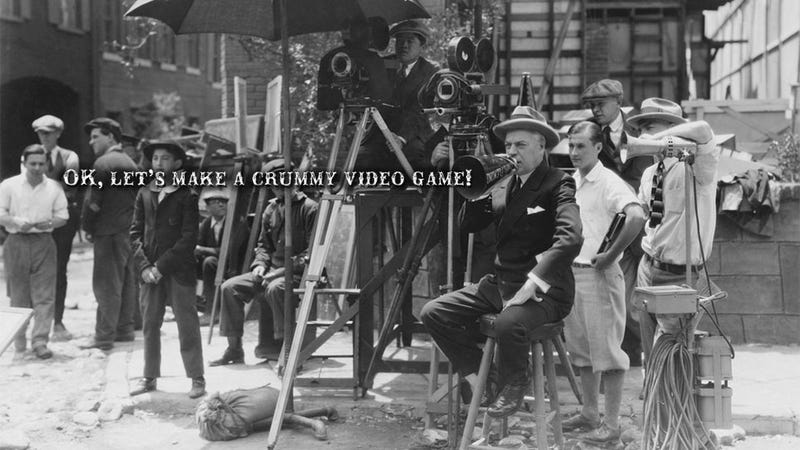 As mainstream games strived to be more cinematic and as gaming emerged as a major source of entertainment revenues, it was only a matter of time until the talent from the film industry would attempt to get in on the action. Such a thing has indeed happened numerous times, but for whatever reason, it typically has not worked out..
But let's start with an exception. The most obvious example of Hollywood talent getting gaming right is George Lucas, who was way ahead of the curve when he founded Lucasfilm Games (later known as LucasArts) in the early 1980s. Over LucasArts' storied thirty year history, the company left its indelible mark on the industry through countless Star Wars titles and unforgettable adventure games like Monkey Island, Full Throttle, and Maniac Mansion that conveyed an unabashedly unique design sensibility.
LucasArts' story is a rarity—for most other Hollywood talent, it seems the decision to enter gaming typically has not worked out.
The following set of stories is an attempt at collating all of the attempts of director-gaming collaborations that, for whatever reason, did not work out. This particularly focuses on Western-developed games with talent whose primary experience lies in the live-action/non-animated film sphere, and I have no doubt I have missed a number of Japanese-developed collaborations that fell through. If there is a project I somehow overlooked, please don't hesitate to mention in the comments or send an email.
***
Steven Spielberg
In a section of her book The Men Who Would Be King: An Almost Epic Tale Of Moguls, Movies, and a Company Called DreamWorks, journalist Nicole LaPorte gives an account of the early days of Steven Spielberg's DreamWorks Interactive — including an unannounced mid-90s collaboration with the late writer-director Nora Ephron. As LaPorte explains, Spielberg was intent on using his then-nascent interactive division to expand the horizons of the gaming medium beyond a focus on "adrenaline," and reflect the sort of genre diversity found in the average movieplex.
The inclination to diversify games led Spielberg to devise a concept for a game called That's Life, which LaPorte described as a title along the lines of The Sims "that hinged on the basic interactions and decisions made during the course of a regular day (taking out the trash, making lunch, going out on a date)." LaPorte says this was so alien to DreamWorks Interactive staffers used to action-heavy titles that "Spielberg might have as well proposed making a video game based on The Bridges of Madison County." Industry legend Noah Falstein told LaPorte he found the idea of virtualizing mundanity to be absolutely absurd, and remarked in the book that he thought the idea "was only really appealing to people like Steven Spielberg, who are so famous that they never have to go to the grocery store or wander around in the streets."
Spielberg thought his Hollywood friend Nora Ephron, fresh off the hit film Sleepless in Seattle, would be the perfect fit for fleshing out the emotional and relational contexts of the game, so he hired her for the game. Alan Hartman, another early DreamWorks Interactive staffer, told LaPorte he found Ephron amiable in their interactions but got the sense that she agreed to work on the game only because Spielberg asked her to. Issues quickly arose: Ephron, used to writing for linear media, was not accustomed to a game requiring branching narratives and much more dialogue than a typical film script. As time went on, she became more interested in devoting her energies to her next film, the John Travolta angel fantasy-dramedy Michael.
Ultimately, That's Life fizzled, and DreamWorks Interactive pursued another Spielberg concept, which became Medal of Honor.
**
In October 2005, about a decade after That's Life's cancellation and several years after Spielberg sold DreamWorks Interactive to Electronic Arts, EA struck a deal with Steven Spielberg "to create three new original franchise properties" with the teams at Electronic Arts' Los Angeles studio, which was created from the DreamWorks Interactive sale. (At the time, EALA also employed Spielberg's son Max as a level designer.)
Only two of those three intellectual properties entered development, and only one of the IPs was actually released — the Wii physics puzzler Boom Blox, which spawned one sequel. The other title, codenamed LMNO, was another attempt at pushing the emotive boundaries of the interactive medium: then-EALA studio head Neil Young said in a 2005 interview following the deal announcement that he hoped this title could resolve whether a computer game could make a person cry.
Writer Matt Leone exhaustively chronicled LMNO's troubled development in a fantastic 2010 1UP piece. To head up LMNO, EA hired famed game designer Doug Church, known for his lateral-minded game development philosophies. Randy Smith, who worked alongside Church at Looking Glass Studios, was lead designer on the project. In the first iteration of LMNO led by Church, the title was "a first-person action-adventure" with a contemporary setting somewhat along the lines of Mirror's Edge.
The game revolved around the relationship between the player-controlled character Lincoln and a mysterious AI companion Eve. Designers spent a long time trying to perfect complex AI technology for Eve that would transcend typical in-game scripted responses and allow for her to react dynamically to gameplay situations and player actions in a manner that could meaningfully change in the relationship between the characters and the game's trajectory.
Rather than a lengthier AAA experience, Leone says designers "wanted to make a game that lasted two or three hours, but could be replayed with a lot of variety each time," though there was "doubt" among the team that executive-level staff, who were concerned with having enough content to counter used game sales, would approve of the idea.
Leone's sources suggested to him that LMNO was "perpetually in a prototype state" and did not get very far along the development process. The team at EALA worked with Arkane Studios to develop a fully formed small slice of the game. After two years, the LMNO team only really one small diner scene, much to the chagrin of those outside the team. In mid-2008, Neil Young — perhaps the primary advocate of LMNO within EA's organization — left EA to found mobile publisher ngmoco, placing the project under the scrutiny of EA executives.
EA ultimately elected to lay off most of the LMNO team as part of its fall 2008 layoffs, but Leone says management decided "kept a skeleton team of under 10 people around for a few months while deciding what to do with the concept." Church left EALA in early 2009, and executives opted to initiate a reboot of LMNO as "The Escape Artist," a more standard combat-heavy, third-person shooter along the lines of Uncharted. Leone says "The Escape Artist" spent about a half-year in development before EA opted to cancel it as part of a larger strategic decision to reorient the priorities of EA's costly Los Angeles studio.
***
Wes Craven
In 1996, adventure game publisher Cyberdreams (best known for Dark Seed and I Have No Mouth, and I Must Scream) announced via a press release it had partnered with developer Asylum Entertainment and "horror film master" Wes Craven for the PC game Wes Craven's Principles of Fear, "due out just in time for the 1997 Halloween season." Asylum Entertainment, a for-hire firm, was perhaps an unusual choice for a horror game — their credits included a Mac port of SimFarm, a military game Allied General, and a sound driver for Apple.
David Mullich, creative director for Cyberdreams, said in the press release that they hoped "to create an action-adventure which encompasses all levels of human fear and conflict within a challenging game scenario" and combined both "ferocious combat" and "psychological challenge." The game trapped players in a haunted house and forced them to confront "their Seven Mortal Fears: Fear of the Bad Parent, Fear of the Predator, Fear of Immobility, Fear of Falling, Fear of Drowning, Fear of Loss of Self, and Fear of Chaos." The game began with the players as children forcing with the Fear of the Bad Parent and eventually progressed to "the social, emotional and intellectual disasters that haunt players as teens and adults."
According to adventure game fan site Game Nostalgia's chronology of Cyberdreams, Wes Craven's involvement in the game was fairly peripheral: Craven apparently had just written one page with his so-called principles of fear, and Cyberdreams contracted a firm called Dream Fabrication & Design Inc. to turn those principles of fear into an entire game script and game design document. Asylum Entertainment was then hired to turn that script and design document into an actual game.
Principles of Fear made it farther than most director-gaming collaborations: there was a playable demo apparently released, and the game was even exhibited at the 1997 Electronic Entertainment Expo in Atlanta. However, Cyberdreams closed shop in mid-1997, and Asylum was unable to find a new publisher for Principles of Fear, forcing them to cancel the project a number of months away from completion.
**
In an interview at the 2006 MI6 Game Marketing Conference, Wes Craven told Dean Takahashi that "he was in talks to create an original game," but refused to provide any further details. Though this potential project was probably in his horror wheelhouse, Craven echoed Spielberg's sentiments about diversifying the emotions found in gaming, saying developers should move beyond "[appealing] to the 14-year-old males with too much testosterone" and incorporate an edifying purpose into their games.
***
David Lynch
In early 1998, Japanese multimedia publisher and developer Synergy issued a press release announcing it had struck a deal with "David [L]ynch and his Hollywood-based interactive company SubStation" to make a game called Woodcutters From Fiery Ships. Synergy had previously created the eerie Myst-esque adventure game Gadget: Invention, Travel and Adventure in collaboration with Japanese artist Haruhiko Shono. According to Lynch's statement in the press release, Gadget had caught Lynch's eye, and he was impressed with "the way that the game delivered an immersive experience to the user."
The President of Synergy's American arm, Natalie Fey, who was "responsible in large part for the partnership," delivered a rather hyperbolic press release quote:
"David Lynch is not just a filmmaker, but an artist who works with photography, paint, music, sculpture, and now interactive entertainment. His willingness to lend his talents to every phase of this project will lead it to a higher level than ever attained before in gaming. He's so cool because he wants create a game that even hard-care [sic] gamers will enjoy. He's not interested in just putting together a string of video clips for your PC."
The press release stated that a "yet to be announced" group of developers in both Japan and America was going to develop the game for a "yet to be announced" platform "for release in the Fall of 1999." The press release also claimed that Synergy was going to self-publish the game in Japan, but seek publishing partners for Western territories.
Unfortunately, the game never quite coalesced. In late 1999 interview with The Guardian, Lynch said Woodcutters From Fiery Ships was "blocked from the get-go because it would have been completely boring to game buffs." The paper said, "[Lynch] wanted a 'conundrum thing... a beautiful kind of place to put yourself. You try to make a little bit of a mystery and a bit of a story, but you want it to be able to bend back upon itself and get lost - really get lost.'" In other words: something distinctly Lynchian.
In the same interview, Lynch also vaguely described the game's premise, explaining that:
"Certain events have happened or are sort of happening in a bungalow which is behind another house in Los Angeles. And then suddenly the woodcutters arrive and they take the man who we think has witnessed these events, and their ship is... uh, silver, like a 30s sort of ship, and the fuel is logs. And they smoke pipes."
Also of note: Hi-Tech Expressions, a developer and publisher of mostly licensed titles, was working on a Twin Peaks game for NES in 1990, though there is no indication David Lynch was actually involved. GamePro said the game was "going to be a mystery/brainteaser type cart, rather than an action game," and Nintendo Power reported that "The plot [was] based on the second season, with multiple endings possible depending on which character [was] played."
***
Vin Diesel
In 2002, Vin Diesel founded Tigon Studios as an attempt to get a greater degree of creative involvement in the then-unannounced Chronicles of Riddick game that was in development at the time at Starbreeze. Diesel intended for Tigon to oversee and incubate various interactive projects developed at external studios.
When Diesel first confirmed his gaming ambitions while doing press for the DVD release of xXx, he mentioned the first title he hoped to develop, "a mature action-adventure [game] called Perrone." The game's title referred to Frank Perrone, a real-life NYPD officer during the 1970s who Diesel said "was simultaneously the most accoladed and excessively aggressive lawman on the force" and someone "involved with both the Mafia and police at the same time."
The reason for Diesel's affinity for Perrone — a rather obscure ex-cop — is unclear, and details of Perrone's exploits are relatively hard to come by. There is only one article in The New York Times' archives about Perrone: a 1985 report by now-retired Times crime reporter Selwyn Raab on a ruling against the City of New York in a civil case over a 1978 involving Perrone. Raab's report characterized Perrone as someone who became unhinged and unfit for duty, despite receiving numerous accolades in his early years.
Diesel's production company, One Race Films, was also developing a film based on Perrone's life story as a vehicle for Diesel to star in, though that never quite came together.
A page on the Tigon Studios site, which went online in late 2005, describes Perrone: Raised on Honor as "a unique and epic story-driven game set in the South Bronx" between 1969 and 1979 based on Perrone's career. Tigon also says Perrone is as "a biographical game," and "a playable biography of Frank Perrone as well as a mini-biography of the decade" incorporating all sorts of happenings of the period into the game world. There is nothing to suggest, however, that Perrone exists in any manner beyond some pitch materials.
Tigon's site also revealed two other game concepts that do not exist beyond pitch materials — Melkor and Barca B.C. Melkor, named after Diesel's Dungeons & Dragons character, is a action-RPG Tigon's copy deems as a "hardcore mature take on Zelda 64." Tigon claimed Melkor's "action/adventure" and "stealth combat" aspects would it lend broad appeal "beyond the traditional fantasy market," but they were mindful of the deep, rich lore fantasy fans expect from their fantasy materials. (On a recent fan webcast, Diesel trotted out a Melkor document with a 2004 date, if you want to know how much progress has been made on the title.)
The site described Barca B.C. as a "unique" "story-driven" hybrid of a third-person action game and an RTS "allowing the player to strategize campaigns and then fight in the thick of battle using a third person [point of view] while simultaneously controlling an army of thousands." The game was based on "the exploits of [Carthaginian general] Hannibal Barca, on [sic] of the greatest military leaders and strategists in the history of mankind."
In a 2009 interview, Diesel suggested he had changed to the concept of Barca B.C. to a massively multiplayer title where "you create an avatar that lives in the reality of Hannibal Barca, the Punic Wars and life 200 B.C." This permutation has not quite panned out either.
Like Perrone, Diesel's interest in Hannibal Barca isn't purely game-related: Diesel has been trying to get the ball rolling on a film about the general for more than a decade with no luck. Diesel also worked with BET on an animated Hannibal series that never aired, despite appearing twice at Comic-Con.
Little has been heard of Tigon since the early 2009 releases of The Wheelman and Chronicles of Riddick: Assault on Dark Athena, and if they haven't been making any movies with the rise of social, mobile and other markets requiring less capital than traditional AAA, it might be safe to assume they are probably defunct.
**
In November 2004, director Bryan Singer partnered with Tigon for a new intellectual property Secret Service. Prior to bringing it to Tigon, "Singer developed the project with Mark Feigin, a former staff member on the White House advance team." Conceptually, the game was "a character-driven, tactical action adventure" about a Secret Service agent protecting the president.
Not one word was ever spoken about the project again, and Tigon quietly removed Secret Service from its website, a good indication it will never happen.
Also, a 2005 MTV article casually mentioned that Tigon had "an untitled project with Quentin Tarantino," but I'm extremely skeptical of such a claim, given that it has not appeared elsewhere. And a collaboration with one of the most prominent contemporary directors is not something you hide quietly.
***
John Woo
A few days before E3 2003, Variety reported that director John Woo and his production partner Terence Chang had established their own gaming firm Tiger Hill Entertainment, and entered into "multi-year first look development and publishing deal with Sega" under which the two companies would co-create action games based on original concepts and "films Woo has directed." Sega would have the first right to publish and develop any such projects, but as it was a non-exclusive pact, Tiger Hill could take their projects to other publishers or partners in the event Sega declined interest.
According to Variety, Tiger Hill was also keen on creating intellectual property that could capitalize on the growing gaming industry and also be exploited as "films, TV shows, comic books and toys." Additionally, Sega hoped to use Tiger Hill's expertise for other Sega titles in development.
Variety reported that the pair's first title "was expected to be released sometime in 2004." Sega of America's vice president Shinobu Toyoda told the trade that the publisher hoped to enter into a number of similar partnerships with Hollywood talent, and suggested the Tiger Hill deal was "a tip of the iceberg." The trade also wrote Tiger Hill hoped to similarly establish connections with leading writers and directors. Tiger Hill's then-newly appointed president Brad Foxhoven told Variety he wanted the firm to be an opportunity for people "to create cool new things without the burden of the studio system holding them back."
Tiger Hill's website mentioned three intellectual properties the firm was developing — Sinner, Burglar, and Stranglehold. Sinner was about an assassin who had to battle his way through "Buddhist Hell" after being murdered during his final job, so he could "avenge his death" back on Earth. Burglar was about a master thief who was murdered in his home by a "common burglar," and his "estranged son," who had never thieved prior, had to become a burglar "to avenge his father's death." The original Stranglehold concept was a bit different from the game Midway eventually released: rather than a sequel-of-sorts to Hard Boiled, Stranglehold was originally about the clash between "[t]wo men on opposite sides of the law" following the murder of a cop's son, which a gang leader is falsely blamed for.
None of these were, however, Tiger Hill's first title to enter development — that distinction goes to Terminal Reality's Demonik. Demonik was a third-person action title about a demon named Volwrath summoned to Earth by various people to exact revenge in various circumstances. The game's main novelty was Volwrath's various upgradable special powers he can use throughout the game, including possessing other people and manipulating his environment.
Demonik's original writer Todd Farmer (Jason X, Drive Angry 3D) wrote in a blog post that Demonik was originally a Sega project, but Sega had a problem with the game's story — or apparent lack thereof — and "asked Tiger Hill to take a look at it" in June 2003. To tackle those issues, Tiger Hill tapped Farmer for a quick solution, but Sega ultimately passed on the project in July 2003, and Tiger Hill "later aquired [sic] the rights."
In February 2004, while the game was without a publisher, Tiger Hill decided that they also wanted to develop Demonik into a feature film. Tiger Hill pitched Demonik to a number of publishers the following month — including Vivendi Universal, THQ, and Take-Two — but ultimately went with Majesco.
Unfortunately for Farmer, the developers at Terminal Reality "were never a fan of his story" — particularly Farmer's "Faustian elements," which they feared would come off as too similar to the comic book Spawn. Farmer was incredulous at the notion that anyone thought Todd McFarlane "[owned] the copyright on deals with the devil." Tiger Hill said they would back Farmer's creative choices, and "force the issue." Majesco — who apparently had similar "concerns" to the developers — would ultimately respect Tiger Hill's decision. At that juncture, Farmer decided to capitulate, and work the developers' preferred story. Farmer even alleged "the designers never wanted a screenwriter playing in their sandbox."
Dejected after having "[e]very outline, every suggestion, every idea [he] had shot down" by "the guy running the show at [Terminal Reality]," Farmer was surprised to learn in late 2004 that Majesco was keen to have him back on board the project, after the publisher found out they were paying him for his writing services but none of his writing was making the actual project. Farmer claimed the main narrative hurdle was the lead designer's insistence on saving "very interesting, very intricate backstory" the designer wrote for Demonik as some sort of reveal for the game's sequel, apparently rendering Demonik "a game with no story."
In addition to reinstating Farmer's role, Majesco and Tiger Hill also "[wanted] to attach a director to work on the cutscenes as well as take the helm on the later feature version." Farmer said potential directors mentioned included Wes Craven, John Carpenter, and Clive Barker, whom Farmer "pushed for" personally. By early April 2005, Barker had officially signed on for the Demonik game and film, and Farmer exited the project.
Majesco and Tiger Hill officially announced Demonik the following month, just prior to E3 2005. The title was set for release on the then-forthcoming Xbox 360 console in spring 2006, and was billed as Majesco's marquee next-generation game. Press materials described the game as "a detailed third-person action game that allows players to control the ultimate bad guy."
E3 impressions from a behind closed doors alpha build demo of the game were, fairly positive. Previewers seem particularly impressed by the game's graphical whistles and physics engine.
Demonik was eventually cancelled in early 2006 when Majesco exited the AAA games market after a disastrous fiscal year, and that same month Demonik was featured prominently in the abysmal Adam Sandler film Grandma's Boy. The combination of those two things means Demonik is perhaps best remembered as "the game from Grandma's Boy," undoubtedly a fate far worse than mere cancellation.
Farmer was also developing another project, Psychopath, at Tiger Hill. According to Variety, Psychopath was "about an ex-CIA operative called back into action to stop a serial killer who begins to question his own sanity."
Farmer said the first developer Tiger Hill pitched Psychopath to was People Can Fly, who passed because they wanted to focus on a sequel to Painkiller. Soon after, Sega passed on the game, which is apparently "exactly what [Tiger Hill and Farmer] wanted to happen," so they could have latitude in finding partners for the game, and develop a film version simultaneously. Thereafter, Konami showed interest, but talks ultimately fell apart.
Tiger Hill thought they could generate more interest in the property from game publishers and film studios if they attached a major name to the project, and Farmer opted for John Carpenter. And Carpenter officially signed on board by March 2005. Variety reported that Carpenter's contract was fairly similar to Barker's, with Carpenter "[overseeing] the game and [directing] its produced scenes and [also] attached to helm and co-write the film version."
The following month, John Woo largely wrapped up Tiger Hill's gaming operations, so the director could concentrate on upcoming films. Two Tiger Hill principles — president Brad Foxhoven and creative director David Wohl — established their own independent game-focused transmedia firm Titan Productions. Titan absorbed most of Tiger Hill's slate, including Psychopath, which Variety reported now had an unnamed developer involved. Titan was, however, ultimately unsuccessful on getting any traction Psychopath.
Titan also absorbed a Tiger Hill project called ShadowClan that had Woo attached in a major creative role. According to IGN, ShadowClan was a Xbox 360 and PS3 game with a target spring 2007 release date putting players in "the role of a skilled ninja with control of multiple AI characters" in a contemporary New York environment. Gameplay carried a stealth-action flavor, and your AI companions were to be used to "deploy strategic attacks throughout the urban levels." There was also a multiplayer component with "ninja clans."
When Tiger Hill exited the picture on ShadowClan, Titan tried to find "a new director and talent" to replace Woo on the property, which the firm wanted to turn into a feature as well. But Titan was ultimately unable to get any further traction on ShadowClan.
**
The winding down of Tiger Hill, however, did not mean an end for John Woo's interest in the gaming medium. Reuters reported in late May 2007 that Woo was collaborating with famed game designer Warren Spector and his studio Junction Point on a transmedia game and film property Ninja Gold. Reuters said Ninja Gold was focused on "a ninja warrior, [named Kat Sato], part of a centuries-old legacy and bloodline, forced to confront the reality of covert warfare in the modern world." Terence Chang told the wire service the idea for the game came from real-life stories of the Yakuza and Russian mob involvement in gold theft in South Africa.
Spector told Reuters that Woo — who was very interested in pursuing "something involving traditional ninjas in a modern-day setting" — originated the idea, which piqued Spector's interest. The game designer said he was attracted to "the idea of what happens when the traditional and the contemporary come into conflict."
Spector indicated that Woo was deeply involved in the conception of the game's characters, particularly Kat Sato, and early collaboration between the two would make Woo's autonomous work on the film, which Spector was executive producing, far easier. The report made no mention of a publisher for the game, but the film project was set up at Fox's short-lived genre-focused division Fox Atomic. Woo intended to direct the Ninja Gold film, and start production in 2008 following completion of a script.
On his then-active blog, Spector wrote in late June 2007 that one of his aims with Ninja Gold was to eschew the "juvenile manner" in which ninjas typically appear in fictional media. Spector wanted to make a piece of ninja media that was smart — something giving ninjas the sort of gravitas Game of Thrones lends to fantasy. He also referred to the project in past tense, indicating it might have already been cancelled in favor of Epic Mickey.
However, things began unravelling for both the game and film quickly after the report. Ninja Gold's publisher, rumored to be Vivendi, dropped the project when it cancelled its slate of unannounced titles. And not long after that, Disney acquired Spector's Junction Point Studios in July 2007, causing the cancellation of the Ninja Gold game, which Junction Point had worked on for at least a year. Woo still tried to soldier ahead with the Ninja Gold film, but attempts to hire screenwriters were hobbled by the 2007 Writer's Strike, and the project never moved forward.
While reflecting on Ninja Gold in a 2011 Eurogamer interview, the game's writer Sheldon J. Pacotti suggested to the site that the game "could have moved the art of the branching narrative in games forward by a decade." Pacotti said he wanted Ninja Gold's branching narrative to significantly change the game structurally — completely changing levels, mechanics and the game world itself. But there was some weariness among the development team about the work and "expense" involved in making multiple versions of a single game map with significantly different environmental variables.
***
George A. Romero
Game designer American McGee posted on his blog in August 2004 that he — through his firm TMIEC — was collaborating with zombie film pioneer George A. Romero and Asylum Entertainment (not the Wes Craven game company) on a "new [game] concept" titled City of the Dead. McGee said they already had a developer "lined up," and they were "in the process of shopping the interactive rights to games publishers." He also said the game's tagline was "the goriest game ever made," and mentioned Romero was keen on involvement in the game's development and marketing campaign.
In December, McGee's firm helped broker a deal between Romero's Living Dead Productions and publisher Hip Games for the George A. Romero series of games for PC and consoles, including City of the Dead.
Just prior to E3 2005, Hip Games officially announced City of the Dead for an early 2006 release, and confirmed the involvement of developer Kuju Entertainment and "horror icon Tom Savini." Hip also revealed the game's developer, Kuju Entertainment, and provided details about the game. City of the Dead was a shooter focusing on four survivors who exited a "zombie infested city by helicopter," only to have their helicopter crash on an island infested with zombies. Additionally, players could choose whether they wanted to be a person or zombie in the game's multiplayer.
E3 previews characterized City of the Dead as ultraviolent, frantic and unpretentious arcade first-person shooter in which you could shoot a bunch of zombies. Writers did, however, make note of the game's Burnout-inspired "one-shot" mode in which players lined up a shot in hopes of inflicting as much zombie damage as possible.
In July, a few months after E3, publisher Hip Interactive filed for bankruptcy, throwing the publisher's slate of titles — including City of the Dead — into limbo. Kuju confirmed in August that it was working with Hip's receiver Ernst & Young to shop the game to publishers, but none ultimately picked up the game and City of the Dead was cancelled.
***
John Singleton
In late September 2004, about a month prior to the release of Grand Theft Auto: San Andreas, Midway announced Fear & Respect, a third-person action title that put players in the shoes of a "retired" gang member in South Central Los Angeles drawn back into the gang world after his release from prison. The game, developed in partnership with Oscar-nominated writer-director John Singleton, was set for release on PlayStation 2 and Xbox in late 2005. The press release was scarce on details, and made no mention of a developer, leading some to erroneously conclude Midway was developing the game internally.
A few months later, Fear & Respect re-emerged as the subject of an eight-page Game Informer cover story, which revealed an assortment of details about the game. Singleton, a lifelong gamer, told the magazine that he worked with his agent for years "pitching games" to various publishers "around the world." Singleton had caught word that "Midway was interested in doing a street game," and met with the company to pitch several game ideas he had, including one that eventually became Fear & Respect. Shortly after he struck a deal with Midway for the game, Singleton brought on his longtime friend Snoop Dogg, who was apparently also in discussions with Midway for his own game, as a collaborator on Fear & Respect.
Working alongside Midway and developers Edge of Reality, Singleton hoped to channel his upbringing in South Central to create a realistic portrait of the community that transcended mere exploitation and meaningfully contextualized the game's action. Singleton said he also wanted to use the game's narrative as an opportunity to explore the causes and effects of urban violence, a common thread of Singleton's earlier oeuvre that is almost entirely absent from gaming. Scott Lane, Midway's executive producer for Fear & Respect suggested to Game Informer that he thought "Singleton's presence [would] help blunt criticism of the game from all quarters, be it the residents of South Central or media watchdogs."
The game's narrative focused on the aforementioned retired gang member — Goldie (voiced by and visually based on Snoop Dogg), a South Central resident who has two strikes on his criminal record and faces a life sentence if he receives a third strike, as per California's sentencing laws. Goldie genuinely wants to break from his criminal past, but as Game Informer explains, upon leaving prison, enemies he made inside jail "put out a hit on [Goldie]." And he gets further entangled "when his nephew gets in trouble," according to an IGN interview. To help give insight into how Goldie developed into a gang member, Fear & Respect featured a number of flashback sequences showing seminal moments in his formative years, such as the murder of his father.
Fear & Respect was mostly a typical linear third-person action game with an emphasis on fists, gunplay and occasional stealth sequences, though producers wanted the game's action to feel rough and realistic. There were also small quasi-sandbox hub areas Game Informer likened to an RPG village where players could interact with NPCs, choose side quests, and learn more story details.
The game's primary novelty was a so-called "Fear & Respect meter," a sort of BioWare-esque moral binary game mechanic that Game Informer said "was conceived by Singleton himself." The actions players took at pivotal moments of the game (choosing whether to kill a particular character or not) determined whether one gained fear or respect. The amount of fear or respect you collected influenced other NPCs' responses to you, as well the game's overall narrative. Letting a rival live early on could have posed problems for Goldie later on in the game. And there were three endings depending on where the player ended up on the meter — a fear ending, a respect ending and a neutral ending.
Unfortunately for Midway, following the enormous success of San Andreas, Fear & Respect didn't seem to quite strike a chord with the masses, and the presence of Singleton did not seem to make much of a difference. The game soon disappeared — Midway did not show it at E3 2005, and announced a delay to 2006 just prior to the trade show. In August, GameSpot reported the game was moved to next-gen consoles "as a result of Midway's desire to make the game the AAA hit it believes it can be."
In March 2006, then-Midway Games CEO David Zucker confirmed Fear & Respect's cancellation, but hinted that "[Midway was] still working with Snoop [Dogg] and John Singleton to do a game." Of course, no other Singleton/Snoop Dogg/Midway projects ever came to fruition.
***
John McTiernan
In his early 2005 Hollywood Reporter article on Ubisoft's collaborations with Hollywood, contributor John Gaudiosi mentioned Die Hard director John McTiernan "[was] working with Ubisoft Paris on a new action stealth game." McTiernan told Gaudiosi that he wanted "challenge" of working with a "team of developers because he was curious about the nature of the game business and how it worked."
Gaudiosi wrote a Wired article several months later listing various director-gaming collaborations in the work, and identified the McTiernan project. Gaudiosi described the "untitled project" as "[a] heist caper game mixing action and stealth, set in contemporary Moscow," and dated it for release sometime in 2006, which never came to pass.
In the piece, McTiernan also provided the following goofy quote:
The hero is not the protagonist in action movies, he's the antagonist. The villain wants to change the world, and the hero just tries to stop him. And that's exactly how videogames are - they move forward based on your reactions to the villain's actions.
A few years later, Gaudiosi mentioned briefly in a report McTiernan had worked on Ubisoft's stealth-action franchise Splinter Cell, which a source familiar with the McTiernan-Ubisoft collaboration said occurred following the cancellation of the original stealth title. The source said the McTiernan-Ubisoft project "kicked around [for] awhile," and likened it to an early heist-themed iteration of Pandemic's Saboteur.
***
Tony Scott
In January 2005, Midway Austin began developing a project called Career Criminal (later known as just Criminal) with Kent Hudson onboard as creative director. Harvey Smith, a long-time colleague who had recently joined Midway Austin, lured had Hudson away to work on the project.
Hudson said Career Criminal had already existed in the form of a hefty conceptual document circulating around at Midway, and he even heard another developer had previously created a prototype of the concept for Midway. That developer appears to The Collective, who spent a year working on a considerably different, ultraviolent permutation of the concept (under the name "The Executives") after the developer wrapped up work on their Xbox Buffy the Vampire Slayer game in summer 2002.
Criminal was an open-world crime game, but Hudson believes the game stood out from other titles in the genre because of the focus on virtualizing the experience of "being an intelligent criminal," which entailed a greater emphasis on "elaborate heists" over the "low-level violence" often found in open-world games. "There were systems in place to discourage violence, and the game incorporated the kind of planning and meticulous execution you see in heist movies like [Michael Mann's 1995 film] Heat," Hudson said. He said the game also featured stealth elements — such as a lock picking mini-game — to allow for alternate approaches in executing heists. The player's character worked with a crew to execute heists, and they could designate particular functions to their crew members.
Hudson mentioned Michael Mann's crime epic as an initial major influence on the game's design, and cited the "We're here for the bank's money, not your money!" scene when describing what he thought was the most unique feature from Criminal, the ability to use intimidation to control a crime scene without killing anyone. "[The player] would start a heist [in the game] with a big 'Everybody get down!' moment, and once people were on the floor you could go around with your gun and point it at individual people, yelling at them to stay down instead of killing them," Hudson elaborated. However, NPCs you were trying to hold hostage would also try to escape out the door while you were looting items, so players had to balance their thievery with using intimidation to prevent hostages from escaping. And cops arriving on the scene at the conclusion of a heist triggered a chase sequence.
Hudson also detailed the game's planning mechanics: when scoping out a potential robbery target, the player's character entered a location appearing to be normal customer, but then began attempting to ascertain the locations of security measures like alarm panels, security cameras and guards. If the player did all of these successfully, they were much closer flawlessly executing their heist.
Criminal also had the involvement of the late action auteur Tony Scott, who came on board a couple years into the game's development. Hudson admitted he is not 100 percent certain on the circumstances leading to their collaboration, but he recalled "someone in Midway marketing [having] a preexisting work relationship with [Tony Scott] and [floating] the idea [of working on Criminal] to Tony." Hudson added that the team was excited about the prospect of the collaboration as they were big fans of his work.
"Tony was incredibly energetic, always going on about new ideas that came to him and expressing a lot of interest in how games were made," Hudson said. "We talked a lot about the differences in the creative process between movies and games, and we also talked about ways to draw from his movies. For example, in his later films [such as Man on Fire and Domino], he started putting text directly on the screen, and we played around with doing that in the game as well, specifically in the heist introduction scenes."
Hudson characterized the collaboration with Scott as multifaceted: not only did Hudson's team at Midway Austin work with Scott, but they also had access to his larger creative team, including a writer, Scott's producing partner and creative collaborator Skip Chaisson, and photographer and visual consultant Gusmano Cesaretti. According to Hudson, Scott's writer worked with the team on the game's script; Chaisson, a martial arts buff, helped the team implement nonlethal mechanics and other "nuts and bolts" work; and Cesaretti sent massive amounts of visual materials of "real-life criminals and gangsters" curated with Scott's help.
Although Criminal began as a Michael Mann-esque game inspired by Collateral and Heat, after Scott came onboard, Hudson said the team worked to integrate director's sensibility throughout the project, and his touch was particularly evident in the game's cinematic style. Hudson remembers the malleability in the creation of cutscenes as being as particularly epiphanic for Scott, who was accustomed to having to deal with careful choice of specific lighting, angles, and film stocks in live-action film.

Early gameplay footage from Criminal
After more than three-and-a-half years of work, a struggling Midway decided to cancel Criminal and make the game's team largely redundant. When explaining the decision for the game's cancellation, then-Midway CEO Matt Booty said he did not believe that Career Criminal had a decent chance of achieving success given the game's "resource needs, feature set, schedule and financial profile."
Hudson estimated that Criminal was "still at least a year from completion" at the time of its cancellation, and says the team "had done a fairly significant pass of refocusing the game and scoping it down in the months before [the game] was cancelled." The team had been expecting an announcement sometime in 2008, but ultimately that never came.
***
Guillermo Del Toro
A week before E3 2006, The Hollywood Reporter broke the news that director Guillermo Del Toro was collaborating with Titan Productions and Terminal Reality on a postapocalyptic zombie horror game called Sundown. The trade said the IP "originated with Terminal Reality," but Del Toro received "the television and movie rights" as part of his deal.
Del Toro told the publication that the game would allow him to get a headstart on a sort of cinematic-interactive convergence he believed to be the future of narrative media. He also said it was important to have a deep involvement in the game's development, saying, "[He did not] want to be a name attached to a property that brings nothing new."
In describing the project, The Hollywood Reporter said:
Players will start as a typical person on an average day. As everything goes terribly wrong, in order to survive they must learn to form alliances with various beings and to change their role as each new challenge calls for different abilities. "We want to create a real beginning, middle and end to the game and to each set piece of the game too," del Toro said. "I want to make some of the atmospheric elements in the game very, very scary."
While discussing Hellboy video games to IGN in October 2006, Del Toro mentioned they were in talks with several publishers about possibly picking up Sundown. But Del Toro's involvement on Sundown was short-lived: the next month, he posted on a fan message board that he was "dropping out of his zombie video game project, Sundown." Del Toro didn't go into details in the message, but he "apparently was having some bad experiences with the video game industry."
Del Toro remarked several years later that "Sundown was eerily similar to Left 4 Dead," a game he said is a family favorite in the Del Toro household.
**
In September 2010, Del Toro confirmed rumors of a collaboration with THQ that had been circulating for a few months prior. Del Toro was reticent to provide details on the THQ project, but hinted it was "Lovecraftian" horror title.
THQ officially unveiled the collaboration — a game titled inSane — via a vague, spooky teaser at the 2010 Video Game Awards; the teaser mentioned the game's developer, Volition, and provided a 2013 release date. After the announcement, then-THQ VP Danny Bilson tweeted that he and Del Toro had been working on the project for six months, and they "finished the [game's] story beats" the day prior.
THQ also revealed inSane was to be a trilogy, and if successive titles shared the same development cycle length as the first game, the last title would see release in 2017. Given the track record of franchises announced as trilogies, many were skeptical Del Toro's vision would ever be completed. In addition to reiterating the Lovecraftian influence, Del Toro also said inSane would have a "pulp narrative and creatures with tentacles."
Del Toro provided a few more vague details in an August 2011 interview with MTV. The director, who was frequently traveling to Volition's Illinois office from his Toronto Pacific Rim set, suggested inSane was a sandbox game firmly in Volition's wheelhouse. Despite the previously announced 2013 date, he didn't rule out inSane coming in 2014. He also said the game's Lovecraftian aspects were "really weird" and came across "in a very sick way."
inSane completely fell off the radar thereafter, and was cancelled in August 2012, with the rights to the IP reverting to Del Toro. Sources suggested to Kotaku that development moved from Illinois to THQ's Montreal studio in the final months. The game, however, might not be dead: in November, Del Toro said he found a studio that was going to pick up the project, though there has been no word of who the studio might be.
***
Peter Jackson
At the September 2006 X06 press event in Barcelona, a month prior to the dissolution of the Peter Jackson-produced Halo film, Microsoft announced a partnership with Jackson to collaborate a new Halo title and an original IP. Jackson and his creative team would work with Bungie to "co-write, co-design, and co-produce" the new Halo title, and Jackson and Microsoft would establish a New Zealand-based games development firm Wingnut Interactive to work on projects.
In a statement on its website, Bungie said the Jackson project would be "a blend of gameplay and storytelling quite unlike anything the games industry has ever seen before," and added that a "few select" Bungie staffers were already working on the title.
Then-Microsoft games executive Shane Kim briefly addressed the Peter Jackson projects during a GDC 2007 press event. Kim said both of Jackson's Xbox 360 titles would come in the form of two digitally distributed episodic series, and mentioned that Bungie was in "the design phase" of its Peter Jackson collaboration.
Although the creation of a Peter Jackson games studio was much ballyhooed, Wingnut Interactive was never established as any sort of formal organization, and Bungie basically worked with a handful of WETA concept artists, Boyens and Jackson himself, a source familiar with the title said.
The source said Bungie's collaboration with Jackson and his team started out fairly positively, but developers at Bungie quickly felt like they were "trying to work with people from a different galaxy." Bungie's team felt like many of the ideas that WETA's staff was coming up with had little application in the Halo universe, according to the source.
Bungie's Frank O'Connor confirmed in April 2008 that they were no longer working on the Jackson project, which the posting dubbed Chronicles. The studio also said the Microsoft's then-nascent internal Halo team would handle Jackson's Halo project as its first title, as job postings had hinted.
Bungie writer Joseph Staten told Kotaku that the Jackson project lost momentum after the Halo film fell apart, and ultimately they made ODST after Chronicles fell apart. If ODST's production lasted fourteen months and Bungie finished work on the game in May 2009, I would guess Bungie stopped working on Chronicles no later than March of 2008.

"Throwaway" animation previsualization from 343's iteration of the Peter Jackson Halo game
In September 2008, Microsoft snatched Kojima Productions designer Ryan Payton to serve as creative director on Chronicles, a role he ultimately wouldn't serve for long. During Comic-Con 2009, the Los Angeles Times reported that Microsoft decided to drop the Peter Jackson project "as part of budget cuts tied to company-wide layoffs [in January 2009]." Jackson's manager, Ken Kamins, told the paper Jackson's interactive efforts would go towards new original IP, though never came together either.
***
Michael Bay
The Los Angeles Times reported in May 2007 that Michael Bay was hoping to make the step into gaming as part of an investment group purchase of special effects firm Digital Domain he helped lead. The paper said Bay wanted to make a "first-person shooter game" with a "budget of about $25 million" to "match the quality of a feature film." The report also said the firm hoped to reorient its business strategy to "capitalize on the convergence between games and feature films," with an integrated pipeline that would service both mediums. Carl Stork, then the firm's new head honcho, said he hoped to turn Digital Domain into "the next-generation digital-content studio."
Digital Domain hoped "to develop four or five games over [a span of] two years," according to the paper. To accomplish this, the firm "[planned] to acquire one or more game firms [in 2007]," which did not occur as far as I can tell. To stand out from the crowd of cinematic games, Digital Domain said they wanted to tap into their "network of A-list directors," including Bay, David Fincher1 and Rob Cohen, whom they would allow to lead development of the games. Digital Domain also wanted to expand into computer-generated animated films, producing lower-budgeted films targeted at "teenagers and young adults."
In a post about the article, the webmaster of Bay's official site said they talked to the filmmaker "a while ago," and during that chat "[Bay] indicated he was in the process of writing the script for a video game."
Digital Domain hired a small number of staff for these gaming and animation ambitions. One former staffer says on their CV that they worked some "game concepts and proposals with high profile Hollywood directors," though it does not seem like those even made to the prototype stage. But most of the division's energies went towards a proof-of-concept for Warner Bros. for Thundercats game and film using a common development pipeline. WB, however, declined to move forward with the project, leading Digital Domain to disband its games and animation unit.
Bay's game was actually not Digital Domain's first attempt at game development: in the mid-90s, it established a New Media division. This division's projects included several CD-ROM games and an unreleased PlayStation game Ted Shred, which was a surfing-themed spin on Crash Bandicoot.
In late 2009, Digital Domain announced it would be opening a new studio in Florida that would partially focus on games, though its unclear if this was related to the 2007 plans. Those Florida ambitions were short-lived: Digital Domain closed down the Florida studio, which pursued feature animation rather than games, last September.
***
Jerry Bruckheimer
At the end of 2007, MTV Games, the music network's then-burgeoning interactive division, announced a rather surprising collaboration with Hollywood megaproducer Jerry Bruckheimer on a venture called Jerry Bruckheimer Games. Despite MTV's ostensible focus on music, Bruckheimer said that their projects would not necessarily be musically related.
Bruckheimer told a pre-Kotaku Stephen Totilo that he wanted "To develop some interesting games," and extend his producing philosophy to the interactive field. Bruckheimer thought he could do in games what he did for pirate movies with the Pirates of the Caribbean franchise or fighter jets with Top Gun.
More than a year later, in May 2009, Bruckheimer made his first move, hiring two executives to head up Jerry Bruckheimer Games — Jay Cohen and Jim Veevaert. Cohen, who previously served as Ubisoft's senior vice president of publishing, would be Bruckheimer Games' president of development, and Veevaert, a senior Microsoft producer who worked on Halo and Gears of War, was to be Bruckheimer Games' president of production.
In an interview with Edge, Veevaert said Jerry Bruckheimer Games would not have an internal game development team, but rather serve as an incubatory and collaborative creative group creating original IPs with external developers. Veevaert and Cohen believed MTV's financial backing would allow Bruckheimer Games to gain significant traction and actually bring products to market.
The following year, Jerry Bruckheimer Games suffered a bit of a set back when its partner MTV decided to exit the large-budget gaming business. Bruckheimer Games was working on three titles at the time. One of the developers working with Bruckheimer Games was a Los Angeles studio Big Red Button Entertainment, which was seemingly collaborating on an IP called "Ten Minute Man." Another unnamed developer worked on a "vertical slice prototype [sic] of a stealth/action-shooter title for Bruckheimer Games."
Following the MTV's gaming exit, Jerry Bruckheimer Games had trouble gaining traction. In 2011, Veevaert left for Zynga, and Cohen departed in April 2012. Unsurprisingly, a spokesperson for Bruckheimer Films confirmed earlier this year that the studio closed.
***
Zack Snyder
In late September 2008, Electronic Arts announced that it had struck a deal with director Zack Snyder's Cruel & Unusual Films production company under which the director would collaborate on "the development of three original EA games" alongside a team at Electronic Arts' Los Angeles studio. EA said it would own and release the properties it conceives with Snyder, but added it would work with the filmmaker "to extend the game franchises into theatrical motion pictures."
Nothing seems to have come from this deal, and Snyder had the bad timing of making a deal at the same time as the economic crisis, which caused numerous layoffs at EA, including folks at EALA. The last time Snyder spoke of the deal was a brief mention in a June 2009 LA Times article about the structural convergence of Hollywood and gaming.
In 2010, Snyder's production company filed a trademark registration for "5ive" for gaming-related usage, and the firm is still filing trademark extensions, suggesting it is something they are still considering. Though there is nothing to suggest they have yet pursued the project in any way.
***
Gore Verbinski
Just prior to the 2009 E3 convention, the Los Angeles Times revealed Gore Verbinski, who had been working on a film adaptation of BioShock, was forming a games studio called Blind Wink Games as a subset of his Blind Wink production shingle. To lead the studio, he hired Will Stahl — who led the Full Spectrum Warrior franchise at Pandemic Studios.
At the time of the announcement, Blind Wink was incubating five game concepts, and building a prototype for one. Blind Wink also had a first-look agreement with Universal, meaning that the film studio, which at the time had just released a self-financed Wanted game, had the first option to publish or finance a Blind Wink game, and if Universal passed, Verbinski could shop those games to other possible partners.
In an interview with the paper, Verbinski said he thought it was important to approach narrative as a result of interactivity, rather than seeing interactivity as a result of narrative, perhaps a common angle for many Hollywood game aspirants. Verbinski also indicated a lateral-minded title like Portal was more along the lines of what wanted to do than a big sci-fi epic like Gears of War or Halo. He said most of the game concepts were conceived internally, but one came from a fairly unusual source — Brett Gurwitz, founder of Epitaph Records and guitarist in Bad Religion.
After several years of prototype, Blind Wink reemerged in late 2011 with the announcement that the studio struck a multi-title deal with Microsoft, with the first release, a Kinect XBLA title, then slated for "late 2012."
Blind Wink's first and only project, a science-fiction puzzler Matter, was announced for a 2013 release date via this cryptic, strange announcement trailer as part of a segment featuring XBLA announcements during Microsoft's 2012 E3 press conference. The CGI trailer depicted a succession of abstract images, primarily those of a sphere navigating through a bizarre, dystopian environment.
A source familiar with Matter told me the game was "very similar to Journey in a lot of ways" in that "it was a hero's quest told without narration" and "a simple story told in very abstract way," affording a lot of latitude to the player's interpretation. However, the source dismissed any commonalities with thatgamecompany's acclaimed PSN title as purely coincidental: Verbinski conceived Matter's concept — including the abstract, dialogue-free approach — a few years prior to Journey's release.
The game's protagonist was a reflective sphere seen in the trailer, which developers nicknamed Adam, the source said. According to the source, the primary gameplay revolved around navigating Adam through a variety of environmental puzzles and stealth sequences in the world of "Cube City," and players could also use power-ups to let Adam "temporarily fly, weigh more, or attack [his] enemies."
Tonally, the source said Verbinski and the developers aimed for "a horror vibe" with Matter, pointing to the "clinical creepiness" of Cube City, the environment shown in the E3 trailer. To consistently instill a sense of dread, designers prevented the player from being able to permanently defeat their in-game foes. Players were limited to "temporarily [stunning enemies] or [hiding] in a location where [enemies] couldn't get to [Adam]," stated the source.
Designers also purposely "played a lot of psychological tricks on the player" to exacerbate their sense of nervousness and unease. In trying to impart his vision, "Gore [Verbinski] would reference a lot of techniques that Kubrick employed in The Shining to help build that tension," said the source.
The source said the game's development quickly went off the rails once Verbinski left the team in fall 2011 to focus on production of his film The Lone Ranger, leaving the leadership of Blind Wink Games to a highly problematic development director. Although the Blind Wink Games team was only five people in size (with "about six to eight more people" at "two external studios"), there was huge turnover at Blind Wink: the source indicated "people were constantly getting hired and fired."
Under the development director, the source said production on Matter quickly fell behind schedule, and team wasted a lot of money and time attempting to decipher his often opaque directives. At one point, the development director decided he wanted to turn Matter into a launch title for the next-generation Xbox, and rather than progressing along with development as usual, the team spent several months putting together a demo for a next-generation version of Matter. Microsoft, however, wanted the game out prior to the next Xbox's release, the source said.
Microsoft elected to cancel Matter shortly after the E3 announcement when the team missed a monthly milestone, the source said. Blind Wink Games essentially disbanded following that decision.
***
Lars Von Trier
In June 2009, the Danish newspaper Politiken reported that a team was making Eden, a game based on provocative Danish director Lars Von Trier's intensely polarizing and immensely graphic arthouse horror film Antichrist, for release on PC sometime in 2010. Many were baffled, particularly after the film caused quite the scandal at the 2009 Cannes Film Festival, with jeers from many critics and several audience members fainting from the graphic scenes. And one Cannes award organization believed Antichrist was so devoid of any redeeming qualities that they gave the film their first-ever "anti"-award.
According to Politiken, Eden was a first-person horror-adventure game featuring the narration of Antichrist star Willem Dafoe, and picked up where the film left off. The game's developer, Zentropa Games, was a games development arm of Antichrist's production studio Zentropa, which was co-founded by Von Trier several decades ago. Morten Iversen, formerly a writer on the Hitman franchise at IO Interactive, led the development of the game, and Politiken added that "Von Trier [had to] approve the [team's] final design."
The paper also made mention of Eden's novel features. Before beginning the game, players answered "a series of questions" about their personal fears, and the game's action varied depending on how the player answered the questions. Additionally, the game streamed in real-world news clips and videos, which Politiken said would have allowed for "each playthrough [to] be unique."
In an email, Iversen said Eden "was originally intended to be a companion piece to [the film]," but the development team ultimately felt Antichrist's audience was too narrow, so they decided to reposition it as a unique story-driven title appealing to people interested in games like Heavy Rain. Iversen compared the connection between Eden and Antichrist to that of S.T.A.L.K.E.R. and the Andrei Tarkovsky film of the same name: there would be elements — the setting and general universe — discerning fans would recognize, but it would still be an accessible product for a larger audience.
The game began "with a short prologue about legal and emotional repercussions" of Antichrist's events, and then tasked players with "collecting clues in a mystery that slowly unfolds — [they] unlock areas in and around the cabin [from the film]," Iversen said. In order to succeed in Eden, players had to confront their personal phobias and "explore the darkness in [the game's] universe" and within the players.
In his description, Iversen also mentioned a fairly peculiar selling point: a claim that Eden would ruin "trips in the wood" in the same way that Jaws ruined "beach holidays" following its release in the 1970s.
Though Von Trier was not intensely involved with the title, Iversen met with him on a number of occasions, and said "he was thrilled by the [project]." But Von Trier had a lot of other things on his plate that took a higher priority — chiefly the work on his Antichrist follow-up Melancholia. Iversen said Von Trier himself "had played several games" such as Alone in the Dark, Half-Life 2, and a military shooter. Iversen recalled one instance in which the two discussed the common stylistic techniques found in Von Trier's Dogville and Silent Hill. But after preliminary work, Iversen indicated that Von Trier decided "he didn't want anything to do with the actual production" as he couldn't have "total creative control" on Eden.
Eden was cancelled in late 2009 after about nine months of production. Iversen said Zentropa's main entertainment business experienced a financial downturn, forcing the studio to "[lay] off half of its staff"; Zentropa decided to focus on its core offerings rather than invest further in interactive productions.
---
1An Esquire profile timed with the release of Fincher's 2007 film Zodiac mentioned Fincher's future aspirations included "[wanting] to make video games." The piece also said he owned both an Xbox and PlayStation, and was an ardent Madden fan who read strategy guides for the game. Nothing ever happened with regards to Fincher developing games, but there are perhaps hints about the type of games he want would want to make. In a Guardian interview promoting the UK DVD release of The Social Network, he said game developers should "go back a bit, to the Aaron Sorkin way of thinking about character and motivation."
---
---
---
---
Lorem ipsum dolor sitar meth
Lorem ipsum dolor sitar meth
Lorem ipsum dolor sitar meth
Lorem ipsum dolor sitar meth
Lorem ipsum dolor sitar meth
Lorem ipsum dolor sitar meth
Lorem ipsum dolor sitar meth
Lorem ipsum dolor sitar meth
Lorem ipsum dolor sitar meth
Lorem ipsum dolor sitar meth