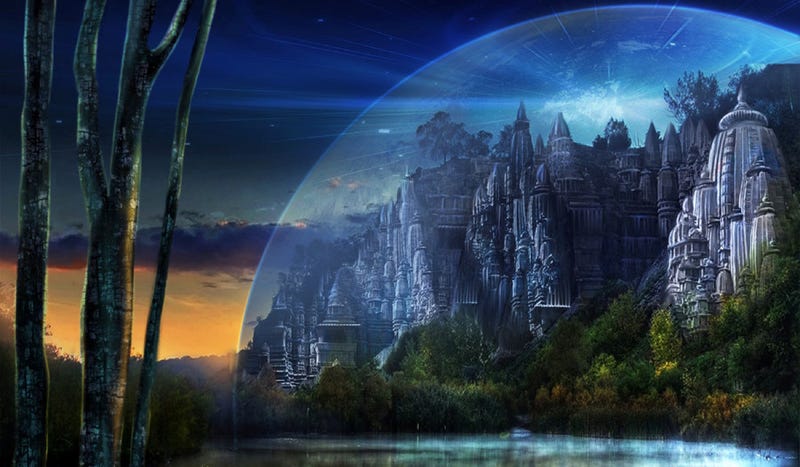 Humans began to live in urban settlements about 7 thousand years ago. As humans continued to evolve over the millennia, so too did our cities. Now, our cities are about to change again — and they're going to look more like ancient Machu Picchu than the gleaming towers of glass and steel we have today.
Illlustration by Olga Idealist on Deviant Art
As any urban dweller can tell you, the one thing that's constant in city life is change. Buildings rise up and are torn down; parks bloom out of old train tracks; swimming pools become ice rinks that become arcades and then turn into Whole Foods.
As a result, many of these early cities eroded into mounds of earth over time. But even in their heyday, they would have probably looked a bit like clay boxes atop an earthen mound, surrounded by the plants, trees, and dairy animals that their inhabitants cultivated.
Still, city life sometimes feels much too crazy and complex for simple hominins like ourselves. Have our own urban creations evolved more quickly than we have? The answer is no. As evolutionary biologist Marlene Zuk has argued:
Neither we nor any other species have ever been a seamless match with the environment. Instead, our adaptation is more like a broken zipper, with some teeth that align and others that gape apart.
Just because our urban environments don't always feel perfectly comfortable doesn't mean they aren't also part of our our ongoing process of adaptation. As I said earlier, the city reflects both human history and our present state. It's a process, always transforming, but always reflecting who humans are — and who we are becoming.
The Cities of Tomorrow
Now that the majority of humans live in cities, we're going to be confronting a new set of problems in urban life. For one thing, natural disasters in cities can cause much greater numbers of fatalities than in sparse, rural communities. So the cities of tomorrow will need to be robust against many kinds of disaster, from earthquakes and floods, to radiation bombardment. It's possible that many cities will built partly under ground, and partly under water. They might even be built inside a single building surrounded by farms. Not only will such structures allow us to conserve space, but layers of earth and water are excellent protection against radiation.